Ceramics: Five Emerging Artists Survey the field
Walter McConnell, New York State College of Ceramics, Alfred University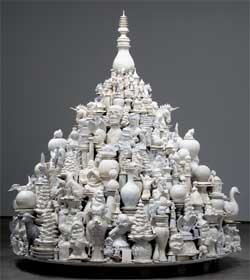 Ceramics is a complex, multi-faceted field encompassing design, pottery, object-based sculpture, installation and architecture. In terms of critical discourse, the linking of such a broad set of practices under a single material canopy has been extraordinarily problematic. Yet, for artists this same breadth presents astonishing opportunities. Maligned as superfluous craft or celebrated as a source of beauty, the distinctive material presence of the ceramic object is simultaneously its Achilles heel and Herculean strength.
The cultural history of ceramics is similarly critically debased and rich. Its ambiguous status within the cultural hierarchy – part-applied, part-decorative, part-craft, part-fine art – marks it as permanently unsettled and not yet adequately accounted for. Irrespective, or perhaps because of this very state, artists come to the field and make innovative work. Conventional ceramic themes are perennially reworked and redefined; unconventional topics are continually explored.
This panel will address the breadth and vitality of the field from the point of view of five emerging artists: Linda Sormin creates installations built from networks of ceramic fragments and found objects; John Byrd casts porcelain figurines that offer us a visual vertigo between high and low sources; Michael Jones McKean fabricates epic narratives that utilize clay as one material among many; Anders Ruhwald builds quirky ceramic objects that draw on the nomenclature of design; Sanam Emami makes functional pottery that integrates ornament on a formal and conceptual level. These artists are recent graduates from MFA programs here and abroad, each with a divergent practice. Collectively they are remapping the boundaries of the discipline.